One Page Bulk Order
Quick bulk order on a single page for wholesale customers.
/month
7-day free trial
Basic
Allow users to quickly order products in bulk
Allow Out of Stock products to order
Select multiple variants of products to order
Provide customize layout for the User Interface
Set the sequence of the product information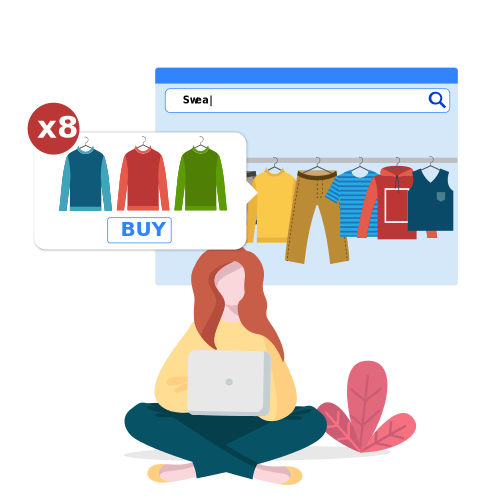 Bulk Order selection with multiple variants
Quick solution for especially wholesale customers to allow their customers to make multiple product selection at just one click while making purchases online. Beneficial for the businesses whose target audience are retailers.
Shop multiple products quickly from one page adding at one instance of time.
Decide and get idea about the total costing of the products according to your budget.
Format with setting background colors of titles, buttons, and labels to look-like and match your Online Store theme.
Keep consistent buyer Interaction with Store
Providing the selection of the bulk order will eventually increase promotional opportunities for the other products and customers can easily give a final thought on product purchase due as all the information is available in one place.
Reduce last-minute cancellation of the product purchased
Can show product information in sequence on the bulk order page.
App creates a separate page to avoid any type of confusion and easily accessible.
Trusted By Brands Big And Growing
Helping over 50,000+ businesses build amazing e-commerce experiences.
You Can See Our Clients Feedback What You Say?
We used the bulk order app for our B2B site, where customers typically know their skus or barcodes or even use a scanner and iPad to do their orders.
The support was fantastic helping customise to match our theme perfectly and was very responsive and …
What a great tool to allow your seasoned customers to easily add multiple items at once without the need to browse through your store!
Big thumbs up to the support team at Zestard for handling issues promptly!
This app works exactly the way I expected. At first I had a small issue with the search results not displaying correctly but I contacted the support team and they were amazing, they solved it in no time. Very quick and helpful.
I would totally …
Great support team, quick to respond answered all of my questions. Had used another bulk order app before this one but i'm already loving this one way more – this one is so much more detailed and in-depth – $4 is a great deal for …
Our wholesale customers were requesting a faster way to shop when they have large orders. One Page Bulk Order has has made them happy by saving lots of time. Whenever we've had an app or code conflict support has gotten back to us with a …
Allow users to quickly order products in bulk
Allow Out of Stock products to order
Select multiple variants of products to order
Provide customize layout for the User Interface
Set the sequence of the product information