Zestard Product Matrix
Show product variants in attractive tabular structure
/month
7-day free trial
Basic
Show variants in tabular format
Allows showing max. combination of three variant options
Decide to show variants column/row-wise
Customize design layout, label titles, background and field colors
Show information on availabity of stocks
Quick solution to Order Variant Products
To show the Selling of the products with multiple options on the Online Store easily, we are here with the best solution with a structure that shows variants in the matrix and allows users to buy products by adding numeric quantity counts in the box.
Especially useful for wholesalers and B2B (Business To Business) customers.
Highly customizable facilities in terms of design layout, labels and positioning of variant options.
Preferable for the products having at least one option and one product variant.
Simplified view of Product Variants
Matrix helps to show the multiple combinations of the variant options as per user's choice and allow customers to provide a fantastic shopping experience with clarity of how much amount will be cost and whether it will fit into their budgets or not.
Beneficial for store owners to receive advance orders for the Out of stock products.
Show price for individual and bulk products with multiple quantities at one place.
Provides information to customers on the availability of the stocks.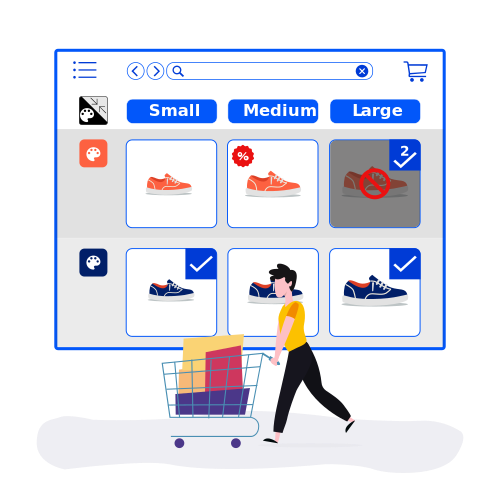 Trusted By Brands Big And Growing
Helping over 50,000+ businesses build amazing e-commerce experiences.
You Can See Our Clients Feedback What You Say?
Support is Great. Modifications required is done without any excuses. Overall experiences is very good.
Perfect for apparel with many colors and size options. Huge time saver for customers buying bulk orders. Simple setup and exceptional support.
Great Support! They Customized the app for my needs for wholesale customers! They were responsive and available.
Easy Setup. We simply placed the shortcode in our product template and the matrix replaced the dropdown fields. We had a couple of conflicts with some apps we were using and customer support was able to help us quickly resolve it.
Show variants in tabular format
Allows showing max. combination of three variant options
Decide to show variants column/row-wise
Customize design layout, label titles, background and field colors
Show information on availabity of stocks